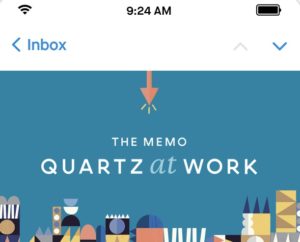 Email newsletters are increasingly important in attracting loyal readers, according to Similarweb data analyzed by SWMS.
Read More »
When you think Axios, you think "smart brevity." When you picture Business Insider, you see those 30-word headlines and lengthy decks that finish the story before the reader even starts it. Quartz has its own comprehension hack, though only paid QZ subscribers get to see it.
Read More »
Few publications have innovated like Quartz. It launched in 2012 as "mobile-first" and raced to embrace native advertising. Its first news app was a chatbot. It created amazing visuals and posted the code on GitHub. It had obsessions, not beats. So why is Quartz in trouble?
Read More »
You can reach this site either by typing/bookmarking mediasurvey.com or samwhitmore.com
Thank you Dotted Line Communications, Engage PR, Kickstand Communications, Red Lorry Yellow Lorry and Tanis Communications for renewing your SWMS subscription!